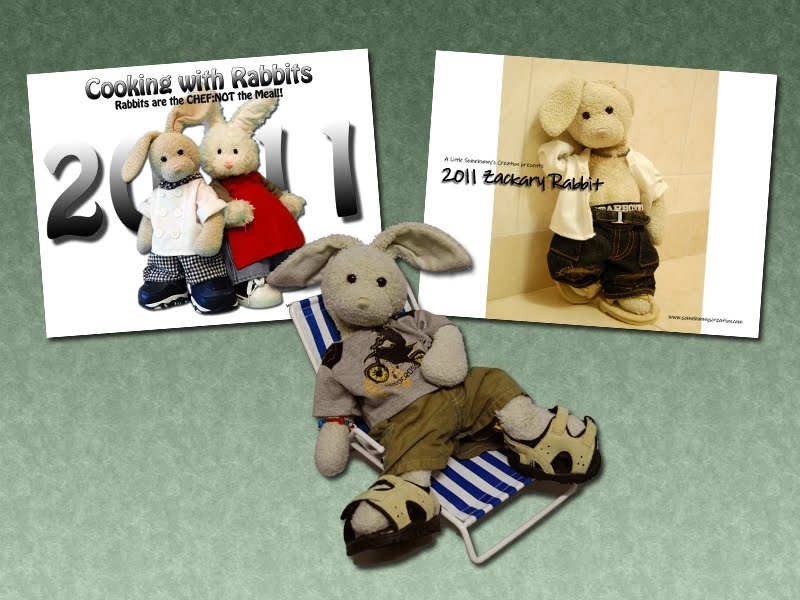 Hi Efurryone!!
Peeps have been askin me to put out a cookbook for quite some time now. This is still in the works. But in the meantime, I have come out with a Cooking With Rabbits 2011 Calendar which includes 4 great recipes!! These calendars are currently on sale at my zazzle store: ZackRabbit's Zazzle Store
Now, I thought it would be nice if I could give away a calendar as a prize to one of my loyal #cookinwifrabbits viewers!! SO, here's what you have to do, if you want a chance to win your very own pawtographed (by ME, of course) Cooking with Rabbits 2011 Calendar:
1. Send me an email to zackaryrabbit [at] gmail.com with the subject line: "#cookinwifrabbits calendar contest"
The following things MUST be included in the email or you will not qualify:
2. Your Name (and/or Twitter name if applicable)
3. Your favourite Cooking with Rabbits show (name of the food we made or something we did) … reruns here: CookingWithRabbitsReruns
4. AND the CORRECT answer to the question: "What is the colour of the apron Rufus HATES to wear on the show?" HINT: clickhere
I will accept email ballots until Friday, November 19th, 2010 midnight EST.
The winning ballot will be randomly chosen from all qualifying email ballots and the winner will be announced on my show November 20th.
GOOD LUCK EFURRYONE!!
- Zackary =:3